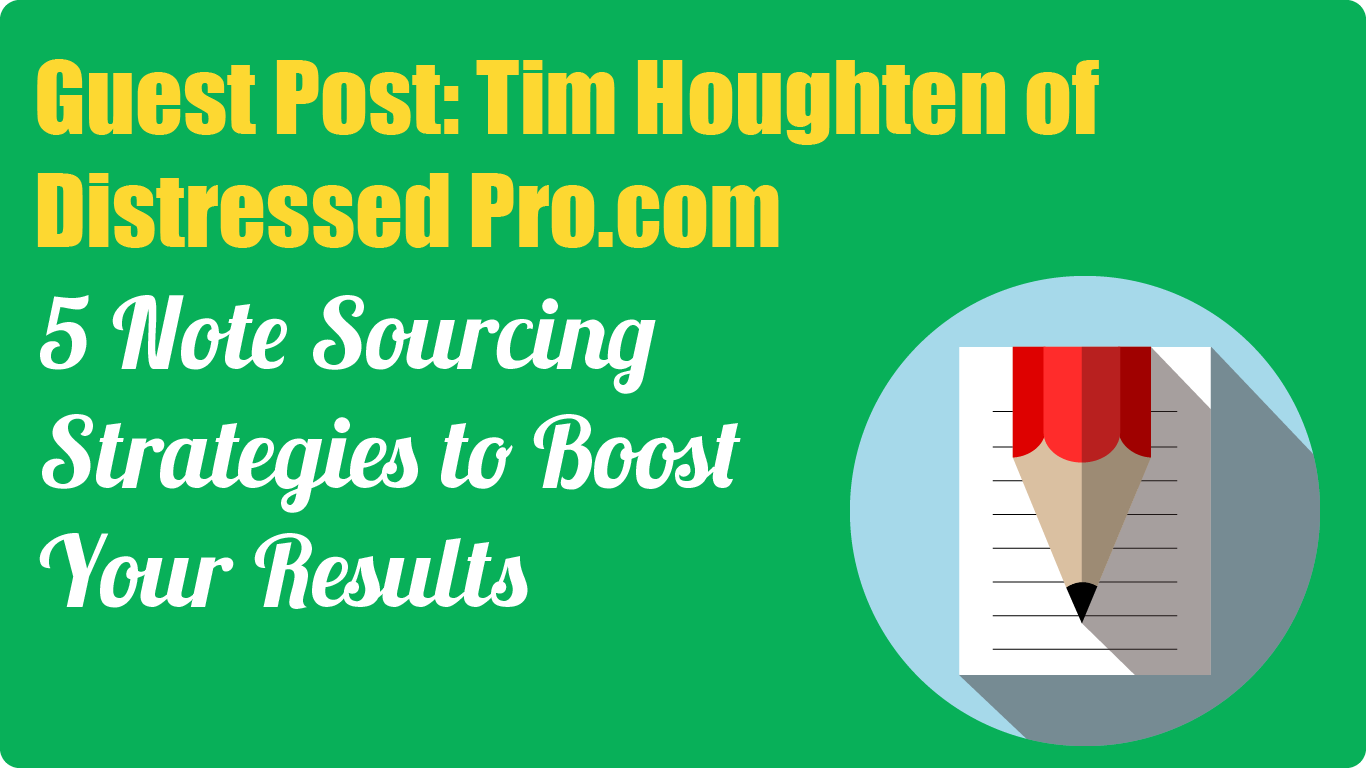 5 Note Sourcing Strategies to Boost Your Results
How can investors improve their note sourcing strategies to gain traction faster and boost volume and results?
Capital is plentiful and there are countless hungry note buyers out there today. That means that the most valuable thing investors can do is to master finding and securing the inventory.
Just like listings for real estate agents, if you control the inventory, everyone else has to deal with you if they want it or want a piece of your success. This is important whether you are just starting out looking for your first mortgage notes, or are looking to grow an already successful business.
It might seem harder to buy notes from banks today and to get the spreads investors were enjoying 24 months ago, but there are deals and dollars to be had if you get good at note sourcing.
Wherever you are at and want to go, try these note sourcing strategies…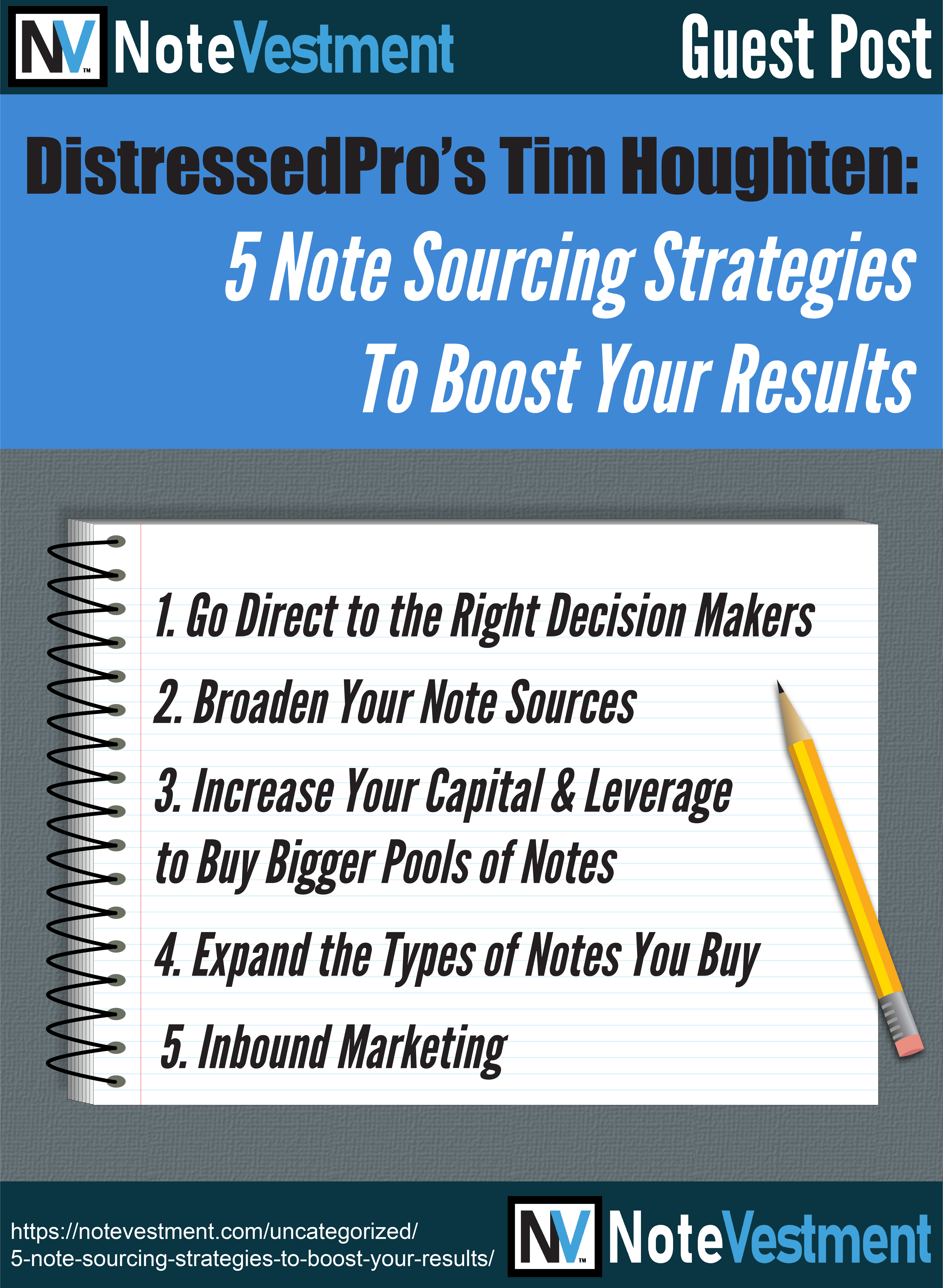 1. Go Direct to the Right Decision Makers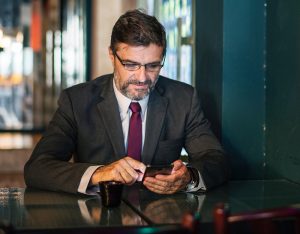 The most common and futile strategy for sourcing mortgage notes is just to start calling banks to ask if they have any notes or REO for sale. If you can get a real person on the phone or even a truly smart AI system you've probably already found you run into a lot of roadblocks.
Most staff don't know they have this product or who can help. Even if you work your way up to the branch manager or executive office there are typically plenty of well trained gatekeepers designed to keep you away from the real dealmakers and decision makers. You can end up going broke before you find a note deal or barely make minimum wage going this route.
Instead, look for tools for connecting with the right individuals directly. This might be through networking at the right industry events or using bank prospecting software that can give you the LinkedIn profiles of the right contacts.
2. Broaden Your Note Sources
Forget the biggest national bank chains that every newbie amateur investor and giant fund it hitting up for mortgage note deals. Look broader and deeper for note sources that are less competitive, are easier to work with, and may give you more negotiating power.
This might include:
Regional banks
Local private banks
Regional credit unions
Holders of seller financed notes
Smaller mortgage loan servicers
Small and mid-sized funds who break up the bigger pools from big banks
These sources are going to be much more interested in dealing with you. Especially if you are buying $10M or less in notes at a time.
3. Increase Your Capital & Leverage to Buy Bigger Pools of Notes
After making the right connections, the biggest challenge facing the majority of mortgage note investors today is having enough capital. Unless you can take on several million dollars in notes in one bulk buy most note sellers aren't going to be interested in talking to you or even showing you the tapes. The more capital you can wield, the more sources you'll have access to, and the better discounts you can negotiate.
Brecht Palombo over at DistressedPro has an article that teaches at least 5 ways you can get started buying notes with no money.
These strategies include:
Partnering up with other note investors and pooling money
Raising money to acquire notes
Combining debt and equity fundraising to buy more notes
Beginning by reverse wholesaling notes and earning commissions to boost your own personal or corporate capital
4. Expanding the Types of Notes You Buy
There is a lot more to this asset class than first lien performing and non-performing mortgage loan notes. The more types of notes you are willing to look at the more options and sources that will be open to you. Many might find some of these niches are far less competitive and far more profitable too.
Consider:

Performing seconds and NPLs
Construction loan notes
Commercial debt notes
5. Inbound Marketing

Instead of doing all the scrambling and legwork to hunt down potential notes and note sellers, investors can also position themselves to draw asset managers with notes to sell to them. Using a variety of inbound marketing tactics and PR this is doable and may be more pleasurable for some.
Just be prepared to make a sizeable investment in good campaigns and have the patience for it to pay off. This can include getting in the news, hosting booths at popular industry trade shows, using Google ads and social media.
Summary
The note business is still a highly profitable one. It offers incredible opportunities to individual investors eager to change the dynamics of their finances, as well as for existing note businesses. The big and most pivotal challenge today is note sourcing.
The above strategies offer a variety of ways to break through the hype and misconceptions out there to start doing real deals and to scale investments with superior yields. For more strategies like this, plus how to master the offer and negotiation process to buy notes from banks, check out the complete guide from DistressedPro, FREE for a limited time.
Author Bio: Tim Houghten
With over 11 years of experience in the real estate and mortgage industries Tim brings a unique perspective to his writing gained from hands on experience and knowledge of many facets of the lending business.
In addition to writing for DistressedPro.com, Tim enjoys consulting for real estate and mortgage related businesses all over the world from Australia to Dubai and the U.S.A. In his writing Tim aims to bring real value to all readers, which cuts through many of the misconceptions and misinformation out there today so that they can make truly informed choices of their own.