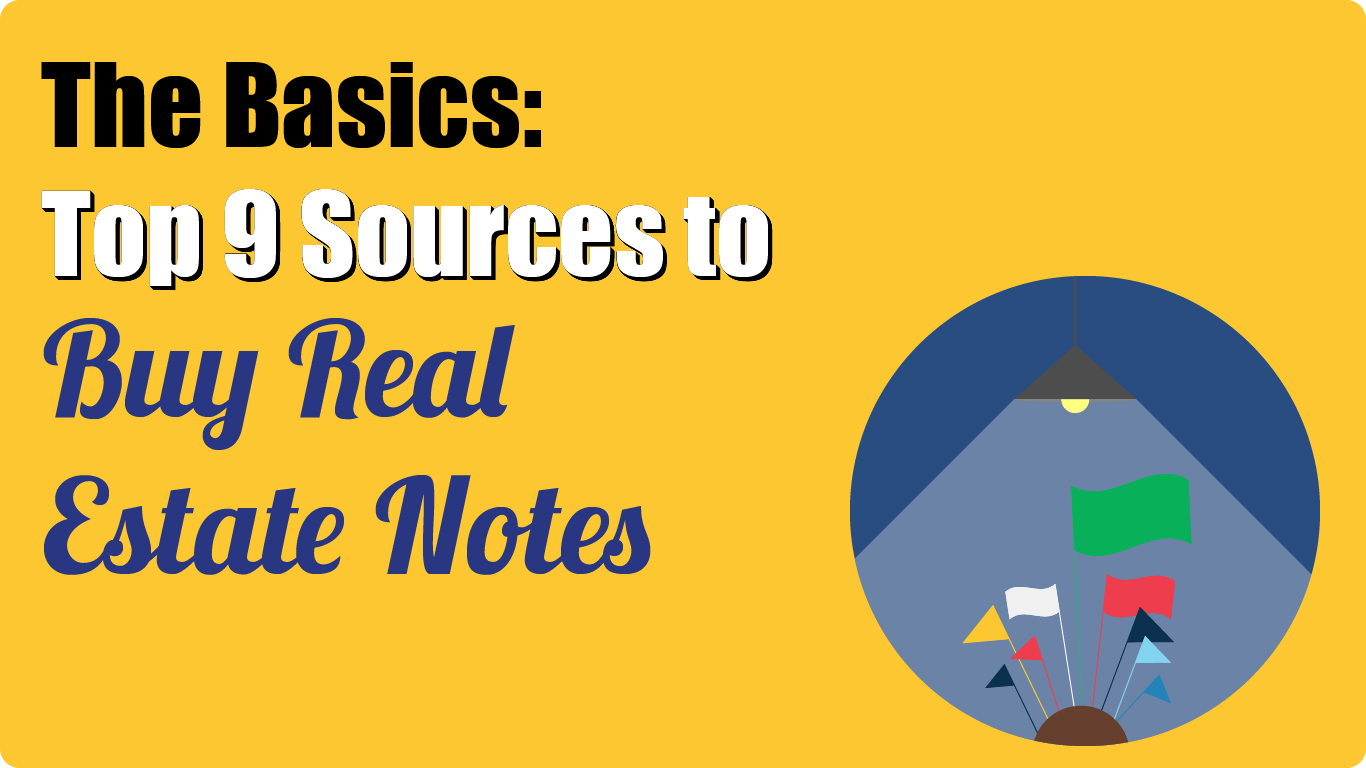 You've found out about the world of real estate note notes, now where can you go and buy real estate notes? Just like any type of real estate, the key is locating the deals so that you can start making money as fast as possible. In this post we're going to talk about the top 9 sources to buy real estate backed notes.
NoteVestment.com's Basic Series
Real quick if you haven't already read through our other posts in our real estate note investing Basic Series, go here. Our readers are raving about NoteVestment.com's Ultimate Note Investing Due Diligence Guide, which is jam packed with helpful content to get you more comfortable with the complete note investing due diligence process. Now let's jump into the content!
Top 9 Buying Sources
Here are the top 9 sources to buy real estate notes. While they aren't listed in any particular order, some of these sources are easier to find than others. You'll find as you continue as a note investor that many real estate note investors closely guard their note sources. Like a fix-n-flipper guarding his top notch contractors, some sources are very hard to find and then foster a profitable relationship with.
For that reason, don't be surprised if a note investor laughs in your face when you ask him/her to specifically tell you where they buy real estate notes. Especially for the full-time note investor who lives on the revenue from his note investing. So what is our first source to buy real estate notes?

#1. Banks & Credit Unions
Coming in at #1 is banks and credit unions, which is also the best source to buy real estate notes. The reason is that you are purchasing notes at the lowest prices possible, directly from the source. There haven't been any markups from brokers or other middlemen who are trying to make some extra profit by selling notes to you.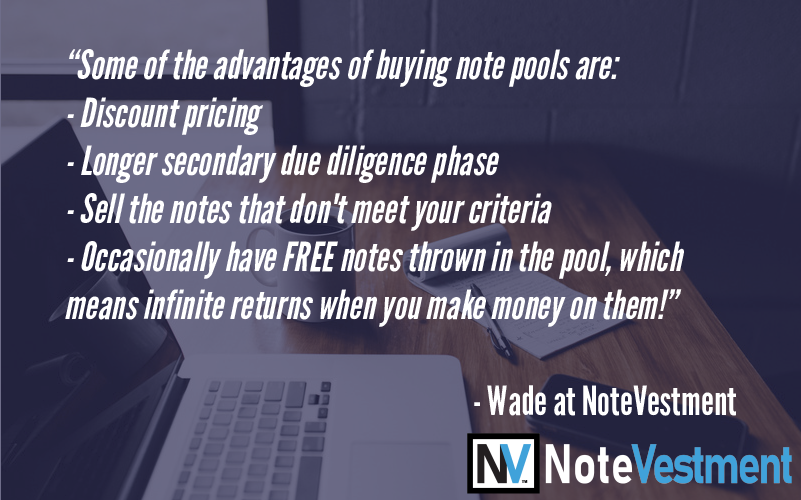 Hard to Find Bank Sources
While banks & credit unions are the best sources to buy real estate notes from, they can also be the most difficult source. It takes time, persistence and dedication to ultimately find and develop your bank sources, which is why many note investors forgo contacting banks. They would rather get the quick wins from other note buying sources, rather than play the long game to ultimate start buying from banks & credit unions.
Build Contacting Banks into Your Business Rhythm

I would highly recommend that you start to work contacting banks into your regular note investing business rhythm. The payoff can really be huge when you land a bank that has a pool of notes to sell. Let's go to our #2 source to buy real estate notes.
#2. Hedge Funds

Hedge funds are our #2 source for buying real estate notes. Similar to banks, hedge funds can offer very favorable pricing to real estate note investors. Like banks, hedge funds can take many years to develop relationships with. Most hedge funds will want to see your note investing track record to know that you are a serious note buyer who is ready to do some real business.
Buying Pools of Notes
A quick note about banks & credit unions, as well as hedge funds is that it is very unlikely that they will sell one-off notes to you. The expectation is that you will be purchasing a pool of notes from banks and hedge funds. This can work to your advantage though. Some of the advantages of buying note pools are:
Discount pricing
Longer secondary due diligence phase
Sell the notes that don't meet your criteria
Occasionally have FREE notes thrown in the pool, which means infinite returns when you make money on them!

Let's move onto our #3 source now.
#3. Brokers
Brokers can be the answer for many real estate note investors that are looking to get started with note investing. Many brokers always have product, which they will also sell as one-off note purchases. Note brokers usually charge a percentage (%) of the Unpaid Balance (UPB) of the note purchase. This fee will be paid by the note seller or by the note purchaser.
Joker Brokers
Note buyers beware of buying real estate notes through a broker that you, or your fellow note investors haven't heard of before. The real estate note investing space is a small space in which note investors develop a reputation for themselves fairly quickly. For that reason, many times you can ask around about a note broker or note investor, and get some good information about their reputation or professionalism.
There are individuals out there that will shop around publicly available tapes, saying that they are selling exclusive product direct from a bank source. These people are what the note industry likes to call "joker brokers". So you can ask around about a person that you haven't done business with before, and more importantly know your numbers so that you know when you are looking at a good deal.
3rd Party Escrow Company

If you are going to be purchasing from a new note broker or an individual that you haven't done business with before, you have an option. It might feel uncomfortable sending thousands of dollars to someone you haven't build a relationship with, so you can use a 3rd party escrow company. You might be surprised to hear that this is not frequently done in the note investing space. However there some loan servicing companies as well as escrow companies that facilitate the purchase of real estate backed notes. My recommendation is that you shop around and compare pricing between competitors before landing on a 3rd party company as an intermediary for your note purchase.
This brings us to your #4 source to buy real estate notes.

#4. Individual Sellers

Purchasing directly from individual note sellers can be a great source to buy real estate notes. The reason is that you are removing the note broker from the equation and eliminating one of the middlemen that will raise your purchase price on the note. You might ask where can I find individual note sellers?
Network to Build Your Network
As you connect with more people you start to grow your network of real estate note investors. It is only a matter of time until you meet a note investor that is looking to sell some of their inventory, whether that inventory is performing or non-performing notes. Some places to build your note investing network are:
Note investing conferences such as Note Expo
Real Estate Investor Associations (REIAs)
Social media sites (e.g. LinkedIn, Facebook)
Mail Campaigns to Note Originators
Another way to meet individual note sellers is to specifically market to individuals who have just recently originated a note on a property that they have sold. This can be a very lucrative strategy, one which a fellow note investor I know has been quite successful in pursuing. The key to any marketing campaign is consistency, so make sure to be in for the long haul if you start a mail campaign like this.
This brings us to #5 note funds.
#5. Note Funds

There are many note funds that are out there and widely available to the public to either invest with or purchase notes from. I've personally purchased several performing notes from PPR Note Co. This is Dave Van Horn's company, which has had many funds throughout the year. If you want to grab Dave Van Horn's latest book, check out NoteVestment.com's Top Book Picks.
Some other companies that have note funds are: Watermark Exchange and National Note Group. It is a good idea to sign-up for their note buyers list, so that you will get emails whenever any of these note funds have inventory, tapes, that they are looking to sell. Let's jump to our #6 source to buy real estate notes.
#6. Online Note Marketplaces

There are several online note marketplaces that have notes available to purchase. Pricing can be very high on these marketplaces, because they are probably one of the easiest places to find note inventory to purchase. I wouldn't be surprised if more veteran note investors list their notes for sale on note marketplaces in the hopes that newer note investor will purchase these notes due to their inexperience with note investing. That being said, it is important to know your numbers, and project your returns before moving forward with purchasing any note.
Some of the online note marketplaces that are out there are:
FCI Exchange [Note – Currently Offline]
Let's start moving into the lesser known sources of notes for sale.
#7. Loan Servicing Companies

When you think about it, it makes sense that loan servicing companies would have readily available inventory to sell from the 1,000's of note investors that they are servicing notes for. You just have to start asking loan servicing companies if they have any notes that their customers are looking to sell, you might be surprised in the responses that you get.
Just look at Trust FCI, they started having so many note investors looking to sell off their inventory that they created an online marketplace, FCI Exchange. There is a huge pool of note investors having their notes serviced with these loan servicing companies. You could land some great deals through loan servicing companies.
Next let's move to attorneys, our #8 source to buy real estate notes.
#8. Attorneys

You might be surprised to hear that attorneys may be able to refer you to some great note inventory. Just like loan servicing companies, attorneys have a large list of clientele, many of which are real estate note investors. Continue to build out your network and always let everyone know, including your attorneys, that you are in the market to buy real estate notes.
Title companies rounds out our list at #9.
#9. Title Companies

Finally title companies can be another source to buy real estate notes. Just like loan servicing companies and attorney's, title companies have a large list of clientele that have already been qualified out from the general public. Meaning that they are using a title company to close on property that they have purchased as a residence or as an investment property.
Take the time to talk to your title companies in your markets, and let them know what you do and what you're looking for. It is only a matter of time until one of their clients turns out to be a big note investor, looking to liquidate his portfolio and retire.
Closing Thoughts
Note sourcing can feel like a daunting task sometimes, especially in today's market with the higher prices and reduced inventory. Continue to build the consistency in your business and tackle new sources of notes, and you will continue to find success.
If you want to read more about NoteVestment.com, click here. Or read some of our other blog posts here. Finally we have totally revamped our Resources page, and have already gotten some great feedback about how helpful it has been for other note investors.
As always, thanks for reading!